AFSCME Local 1584 members approved an agreement which increases salaries and provides a retention bonus.

Local 10 Tampa Bay News quoted Local President Deena Howell. "I think overall we have a great contract and everyone from the administration to the employees demonstrated a lot of passion and commitment in coming to this agreement," she said.

Howell has been a school bus driver with the district for 17 years and said many like her had started to feel over-worked and undervalued.

"We discussed it because of the governor extending this to the teachers and we felt like, yes, as essential workers and if the money was available that it should be also afforded to our employees as well and they worked with us," she said.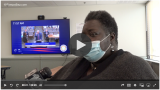 Watch >>